GNP and Magic City Productions are proud to present ten time Grammy Award winner and Rock & Roll Hall of Fame inductee Bonnie Raitt with special guest The California Honeydrops live in concert for one show only on Saturday, March 12th at 8PM. Reserved seat tickets are SOLD OUT. Regular box office hours are 10AM – 5PM Monday-Friday and 10AM – 2PM on Saturday.
Following the highly-anticipated release of her twentieth album, "Dig In Deep" (Feb 26, Redwing Records), Bonnie Raitt will kick off her 2016 North American Tour, returning to major cities where she's long been recognized as one of contemporary music's great live performers.
Bonnie's Dig In Deep Tour will feature her longtime touring band, which backs her on the forthcoming album, including James "Hutch" Hutchinson (bass), Ricky Fataar (drums), and George Marinelli (guitar), along with Mike Finnigan (keyboards), who joined the line-up for the triumphant 2012-2013 Slipstream tour.
"So much of the album is focused on what I want to do live," she says. "I write and pick these songs so we can nail them on stage."
Since the release of 2012's GRAMMY Award-winning album "Slipstream," Bonnie has performed over 200 shows in the U.S. and abroad, including a sold-out concert at Boston's Fenway Park with James Taylor this past summer. Her powerful chemistry with this band creates a magic that has been described as "exquisite" (Chicago Tribune) and "perfect" (Boston Globe).
Opening for Bonnie on the tour will be The California Honeydrops, a five-piece ensemble led by dynamic vocalist and multi-instrumentalist Lech Wierzynski. Known for its engaging live show and diverse musical influences, the group incorporates Bay Area R&B, funk, Southern soul, Delta blues, New Orleans second-line, gospel, and psychedelic groove into its sound.
Continuing a long-standing tradition in conjunction with the Guacamole Fund, Bonnie will donate one dollar from every ticket purchased to grassroots local, regional, and national organizations whose work focuses on safe and sustainable energy, social justice and human rights, environmental protection, and blues/music education.
The album pre-order for "Dig in Deep" begins on November 6. The pre-sale for the tour will start on November 10 for Bonnie's Fan Community (available through her website), and will be followed by the public on-sale November 13. Ticket sales on Bonnie's site include Special Benefit Seats and packages to pre-order "Dig In Deep" CDs and LPs and to purchase an exclusive merchandise item.
 
"I'm feeling pretty charged, and the band and I are at the top of our game," she says. "This period of my life is more exciting and vital than I was expecting, and for that I'm really grateful. At this point, I have a lot less to prove and hey, if you're not going to 'Dig In Deep' now, what's the point?"
The California Honeydrops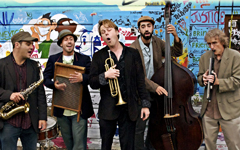 Formed on the street corners and sidewalks of the San Francisco Bay Area, The California Honeydrops have transformed themselves from a street-busking jug band into an internationally touring machine. Along the way they've also broadened their sound, carving out a mix of New Orleans jazz, West Coast R&B, gospel, funk and soul. Fused together, these genres form the basis of The California Honeydrops' unique high energy music and dynamic live shows.
Led by frontman Lech Wierzynski – a first generation Polish immigrant who, after moving to the U.S. as a child, assimilated himself into his new home by falling in love with American rock 'n roll, soul, jazz and hip-hop — the band breaks down even more boundaries with their fourth full-length album, A River's Invitation. Produced by The Honeydrops themselves and recorded in Wierzynski's living room, it's an eclectic, energetic album fusing  the stress-free spirit of the group's busking days with the adventurousness of a band that's learned to embrace not only the stage but the studio, too.
Links: Bonnie Raitt – The California Honeydrops – Tickets – Palace Box Office – Palace Theatre – Directions