GNP & Eastern Artists welcome Bonnie Raitt with very special guest Marc Cohn to the Palace Theatre for one show only Saturday, June 2 at 8PM. Reserved seat tickets are $62 & $52 (includes $3 facility fee, $.50 donation to charity) and are on sale now without service fees at the Palace Theatre box office located at 19 Clinton Ave. (on the Clinton Avenue Side of the theatre) open Mon – Fri from 10am-5pm and Saturdays from 10am-2pm. Tickets may also be purchased on the web at www.ticketmaster.com by phone at (800) 745-3000 and all Ticketmaster outlets. For special benefit seating, visit www.bonnieraitt.com.
With the release of her nineteenth album, Slipstream, Bonnie Raitt is starting anew. The album marks her return to studio recording after seven years; it's coming out as the launch of her own label, Redwing Records; and it delivers some of the most surprising and rewarding music of her remarkable career, thanks in part to some experimental sessions with celebrated producer Joe Henry. The album's title is very significant for Bonnie —Slipstream isn't just a beautiful sounding word, but an indication of her place in the music community. "I'm in the slipstream of all these styles of music," she says. "I'm so inspired and so proud to continue these traditions, whether it's reggae or soul or blues. I'm in the slipstream of those who came before me, and I'm leaving one for those behind me. I'm holding up the traditions of the music that I love."
The years before and after Raitt's last album, 2005's acclaimed Souls Alike, weren't an easy time for her, with the passing of parents, her brother, and a best friend. So after following that album with her usual long run of touring—winding up with the "dream come true" of the "BonTaj Roulet" revue with Taj Mahal in 2009 and a triumphant appearance at the all-star Rock and Roll Hall of Fame 25th anniversary concerts the same year— she decided to step back and recharge for a while.
"I took a hiatus from touring and recording to get back in touch with the other part of my life," she says. "On the road, under stress, it's hard to stay in balance and move forward." "I didn't have to be the professional version of myself for a long time," she says. "It wasn't so much a vacation as a chance to take care of a lot of neglected areas of my life, a lot of processing after all that loss and activity."
More than just a best-selling artist, respected guitarist, expressive singer, and accomplished songwriter, Bonnie Raitt has become an institution in American music. "I'm certain that it was an incredible gift for me to not only be friends with some of the greatest blues people who've ever lived, but to learn how they played, how they sang, how they lived their lives, ran their marriages, and talked to their kids," she says. "I was especially lucky as so many of them are no longer with us."
In between sessions, when not burning highways on tour with her band, she devoted herself to playing benefits and speaking out in support of an array of worthy causes, campaigning to stop the war in Central America; participating in the Sun City anti-apartheid project; performing at the historic 1980 No Nukes concerts at Madison Square Garden; co-founding MUSE (Musicians United for Safe Energy); and working for environmental protection and for the rights of women and Native Americans.
After all the awards and honors and decades of virtually non-stop touring under her belt, Bonnie continued her activism and guesting on numerous friends' records, including Ruth Brown, Charles Brown, Keb' Mo, Ladysmith Black Mambazo, and Bruce Cockburn, as well as tribute records for Richard Thompson, Lowell George, and Pete Seeger. In the years in and around the release of Souls Alike, she co-headlined with Jackson Browne and Keb Mo' part of the historic "Vote For Change" tour leading up to the 2004 Presidential election, and then again for the 2008 election, staged a series of benefit concerts and fundraising receptions to help get out the vote and encourage voting in key Democratic Senate races. In 2007, Bonnie joined her MUSE (Musicians United for Safe Energy) friends Jackson Browne and Graham Nash to launch a campaign to prevent the legislative bailout of the nuclear industry and developed www.nukefree.org, a website that serves as an information and networking hub for safe energy activists. In August 2011, MUSE mounted a very successful benefit concert at Shoreline Amphitheatre to raise funds for Japan disaster relief (following the devastating earthquake, tsunami and meltdown of the Daichi-Fukushima nuclear reactors earlier in the year,) as well as non-nuclear organizations worldwide.
Bonnie continues to use her influence to affect the way music is perceived and appreciated in the world. In 1988, she co-founded the Rhythm and Blues Foundation, which works to improve royalties, financial conditions, and recognition for a whole generation of R&B pioneers to whom she feels we owe so much. In 1995, she initiated the Bonnie Raitt Guitar Project with the Boys and Girls Clubs of America, currently running in 200 clubs around the world, to encourage underprivileged youth to play music as budgets for music instruction in the schools run dry. Bonnie currently sits on the Advisory or Honorary Boards of a number of organizations, including Little Kids Rock, Rainforest Action Network, Music Maker Relief Foundation and the Arhoolie Foundation.
Her commitment to the redemptive power of music is expressed in the foreword she wrote to American Roots, the book based on 2001's PBS series of the same name. "I feel strongly that this appreciation needs to be out there so that black, Latino and all kids can understand the roots of their own musical heritage," she explains. "The consolidation of the music business has made it difficult to encourage styles like the blues, all of which deserve to be celebrated as part of our most treasured national resources."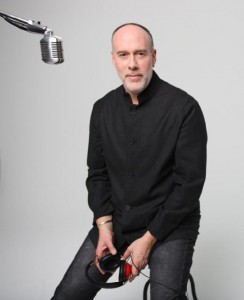 As a Grammy Award winning singer-songwriter, Marc Cohn combines the precision of a brilliant tunesmith with the passion of a great soul man. He's a natural storyteller, balancing the exuberant with the poignant, and able to distill universal truth out of his often romantic, drawn-from-life tales. Cohn's own career took off at the turn of another decade, in 1990, with the recording of his critically acclaimed, self-titled debut disc, which yielded such classics in their own right as "Walking In Memphis," "Silver Thunderbird," and the lovely "True Companion." Just as a consumer and a total music fan, if I saw a sequence on a record that had songs by Paul Simon, Badfinger, John Lennon, Cat Stevens, The Grateful Dead and Bread, I would immediately be intrigued, and I'd probably buy it just to find out how badly the artist had lost the plot! But somehow all those disparate styles and approaches to songwriting seem like they belong together."
Now, Listening Booth:1970 ultimately brings Cohn back to where he began– writing songs like 'Walking In Memphis' which spoke so eloquently about the transformative, healing power of music. Like that hit single, Listening Booth: 1970 is really the soundtrack to his life. As Cohn reflects, "It seemed like such a natural progression for me to do a record like this because, if you've been following my records from my first single, I have been paying tribute to musicians through my writing all along, from Al Green to Elvis to Levon Helm to Charlie Christian, It's really been a touchstone for me. Now I'm just repaying a debt of gratitude to the artists who've changed my life and taught me how to do what I do."
Collaborating with longtime producer-arranger-multi-instrumentalist and fellow Grammy Award winner John Leventhal, Cohn doesn't merely recreate the sounds of this storied time. On Listening Booth:1970, he transforms songs from such artists as Cat Stevens, John Lennon, Paul McCartney, Van Morrison, Smokey Robinson, Creedence Clearwater Revival and even Bread into tracks that are warm, soulful, more than a little sexy and full of easy-going charm. These highly personal interpretations say as much about Cohn's own history – his experiences, his memories, his inspirations – as about the legacy of these songs. They've been so creatively and confidently re-imagined, and sung with such feeling, they practically feel brand new.
Links: Bonnie Raitt – Marc Cohn – Tickets – Palace Box Office – Palace Theatre – Directions